Sarah Agnes Byrne.

Sarah Agnes Byrne (pictured left) was born sometime between may 1861 and may 1862, in Avoca, Woodenbridge,County Wicklow. She had a twin sister Julia who died in infancy. A fuller story of her life can be found through a link at the bottom of this page

Julia (Died at birth or in infancy)
George (Teacher and later, Turf Accountant),
Michael, (born around 1870, see below)
Daniel (Farrer),
Mary-Anne (married Richard O'Brien) (see Delahunt, Dempsey)
Margaret Mary (became a Mercy nun at Yarrawonga in Australia, she died there in 1947)

Michael Byrne
Michael Byrne, was born around 1870 and married Julianne Giffney from Wicklow Town. Julianne was the daughter of Thomas Giffney and Mary Lindsay. Michael was Baker in the main and later acted as an Undertaker), they lived in Rathdrum, Co. Wicklow where he learned the baking trade in Fitzpatrick's Bakery. Later they lived at 3, Quarantine Hill, Wicklow where they reared their ten children. The children were Tom, Mick Junior, Mary, Theresa, Leo, Roy, Kathleen, Eileen, Lindsay and George.
The family moved to Arklow and lived in one of the houses opposite The Dainty Bakery. Myles and Tom worked in Kynock's Explosives factory. There was an accidental explosion in the factory in 1917, and Myles along with many others was killed at a young age.

It is said that Julianne (nicknamed by locals as "Deadfeather" possibly because she had a feather in her hat pointing downwards) was an astute business woman and she bought Nr. 25 King's Hill and they opened a bakery. It was a very succesful enterprise with some 15 vans and 2 lorries doing deliveries as far north as Bray, far out to Roundwood and south as far as Ballygarret. There was quite a crew in the Byrne Bakery, 17 drivers and at least 4 bakers employed. Have a look at the photo below.
Not only would they deliver to shops, but also to many house dotted around the countryside. When they arrived at the beginning of a long lane leading to a house they would often see a stone wrapped in a newspaper to indicate that the house wanted bread. Another service they provided was to bring home-produced butter from the farmers back into Arklow. This was done free of charge.

Coming soon on this page, the story of how the Byrnes peacefully ended a strike at the bakery without negotiating with the strikers.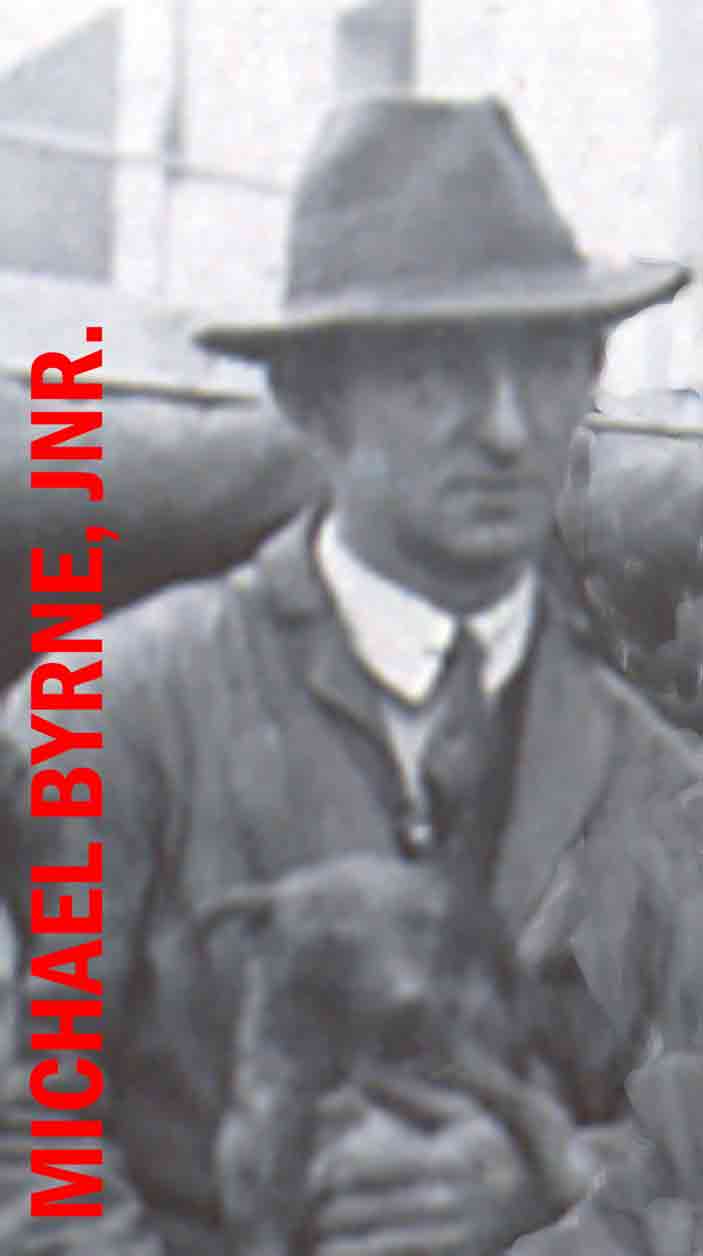 Michael Byrne, Jnr. and doggy Byrne.
This is a photo of Michael Byrne Junior, taken from the original photo below.
Please note that the quality of photos on this site is reduced. If you would like the full quality photos, please e-mail me.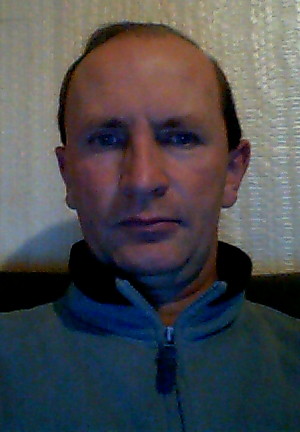 ACKNOWLEDGEMENT:
I would like to offer a special word of thanks to my cousin Michael Byrne (photo here on the left ) in Arklow, County Wicklow for his valuable participation that made this page of our website possible. Without his help, I would have spent the next 300 years walking among the Wicklow Hills looking for headstones and birth certificates. Michael is a great-grandson of Myles Byrne, second from the right in the photograph above left.