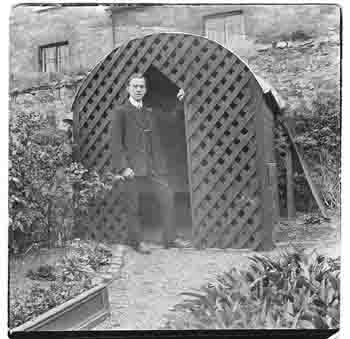 walter rundle taken around 1900.
Walter Rundle's story is indeed a sad one, and reflects a disturbing saga in Irish history. A story that could have been commonplace but we don't know because such stories remained unwritten.
This account of Walter's life is based on conversations I had with my Grandmother Agnes (Walter's widow), her sister Connie, and (my mother) Ena, his daughter. I have also gathered further information from Tammy Valee in Canada who is the great grandaughter of Walter's sister, Luisa.

When Walter married Agnes Graham, sometime before 1911, the circumstances of a future marriage break-up were already in place. Walter was a presbyterian and Agnes a roman catholic. Such "mixed-marriages" were not uncommon and where they occured, there was a compulsion on the catholic party in the marriage to raise all the children in the catholic faith.
Sometimes a compromise was reached where it was agreed that any male offspring would be raised in the faith of the father, and females in the faith of the mother. Such a compromise was reached with Walter and Agnes in order that the catholic church would allow Agnes to marry a non-catholic.
It is not certain where they got married, there is a possibility that it was in Bury St. Edmund's. That's nice because the name "Edmund" crops up in the Rundle family quite a bit and it is also where their eldest daughter, Ena studied nursing in the late 1920's. This peculiar link may reveal something else later.
Walter was born on the 6th. February,1881 in Queensboro,Termonfeckin near Drogheda, County Louth. He worked as a ledger clerk, which is, in today's language, an accountant. He was quite a talented man and known to be excellent at mathematics. He was also quite a proficient chess player. In looks, he would have been considered to be a good-looking man and resembled his father very much. His features were passed on to his son (Arthur) Henry.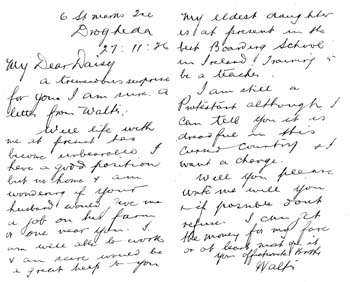 During walter's dilemma he wrote this letter to his sister, daisy, in canada asking if she and her husband would take him in and give him work and help him start a new life. daisy replied suggesting he sort out his life where he is or look into moving to england.
During his married years he worked as an accountant in the Drogheda Manure Company and lived in 6, St. Mark's Terrace, a row of new houses built on what was originally Scarlet Street. (This might have been ominous, because this is where, legend has it, that Oliver Cromwell slaughtered his Royalist opponents and committed the most abominable slaughter of 3000 soldiers and civilans in a few days. The slaughter is recorded as the one greatest act of genocide that had repercussions on Anglo-Irish relations for about 400 years. It is saif that the blood of Cromwells victims flowed along the street like a flood, giving it the name Scarlet Street).
However, religious differences never caused any problem in the marriage, and it was said to me that Walter took an active part in ensuring that his daughters attended church, properly presented and punctually. He also made sure that they learned their religious doctrine. on many occasions he actually brought the girls to the gate of the catholic church and waited on them to bring them home. This happened usually when Agnes was in confinement.
In general, Walter and Agnes were well liked and respected. "The Rundles" were regarded as a quiet, refined and intelligent family. Things seemed to run smoothly in the Rundle household until about 1926 when events changed. The nuns in St. Louis convent boarding school, where Ena was being educated, had enquired of her, what she thought of her father. Ena spoke of him with great admiration and told them about how her "Dadda" was bringing them out for walks and teaching her chess. I might mention here that Walter had a chessboard in the "parlour" where he taught Ena how to play the game and trained her to exercise her memory. They would start a game of chess by making one move, lock the parlour door and once a week they would unlock the room and make one more move. They would continue this process until the game ended. As you can imagine the games sometimes lasted for several months.
This chess game, or rather the account of it given by Ena to the nuns, seems to have triggered a reaction in the catholic institution and then Walter came under pressure from the catholic church "representatives" to restrict his contact with his daughters. He was also advised that his life would be much easier if he became a catholic. He argued his case that he had made his contribution to his daughters' catholic upbringing and politely told them that they could not tell him how to bring up his children.
(please glance at the letter on the left of your screen)
Gradually, the word "compromise" faded, things escalated and it got to a point that if Walter left the house and any of his daughters were with him, he was followed by someone. He even tried sending the girls out for a walk alone and arranged to meet them a short distance away when he brought the boys out. The result of this was that there were more people hovering outside to follow the different groups going for walks. His older children had fond memories of these outings when Walter used every opportunity to spend time with his children and educate them about plant life, wildlife, history and the galaxies.
He was coming under more and more pressure and wrote to his sister "Daisy" in Canada asking if she and her husband would give him a start there (that's the letter on the left). She advised him to sort things out at home. finally, he had a discussion with Agnes and told her that he was no longer master in his household because of outsiders, that he was leaving Drogheda and hoped that the catholic church would look after their children because he could no longer have a peaceful life there.
Walter Rundle and Agnes Graham
( Around the time of their marriage possibly early 1911)
Walter left Drogheda in 1929 and went to Plymton, Plymouth in Devonshire, the home country of his father. He never returned to Drogheda, and never communicated with his children since then. At some point Agnes sent one of their sons over to see him. He called to where Walter worked but seemed to have lost courage at the door and never got to talk to him. There is another version of this story, that Walter refused to see his son when he called. If anyone has the accurate story, or even another version of the events, please contact me. See the red box below.

Walter died at the age of 63, on March 16th. 1943 in his brother's home at "Astoria", Morley Road, Plymton, Plymouth Devonshire.

Agnes continued to live in the family home at 6 St. Mark's Terrace, Drogheda until she died at the age of 84, on January 25, 1975. After her death, her son Cyril Graham Rundle lived there with his wife, Bridie (Kelledy). After their demise, the house became home to Agnes' spinster daughter, Mary Rundle who lived there until she died. The house was then sold in 2002, almost one hundred year after Agnes and Walter Rundle first occupied it.

To listen to a radio documentary of this story, please copy this link..... https://www.youtube.com/watch?v=T6YicI1RuKU

Please participate in this website. Can you offer contributions or comments? Do you know any stories you heard about people mentioned here? Have you a photograph you can add to the Rundle story? Click on the red box below.