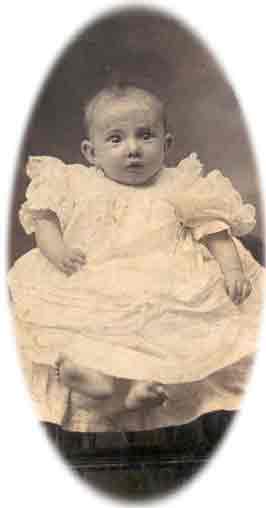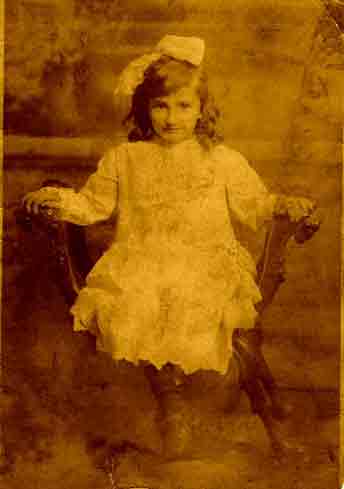 Ena Rundle aged 5 months and six years.
(These are the earliest photos in existance)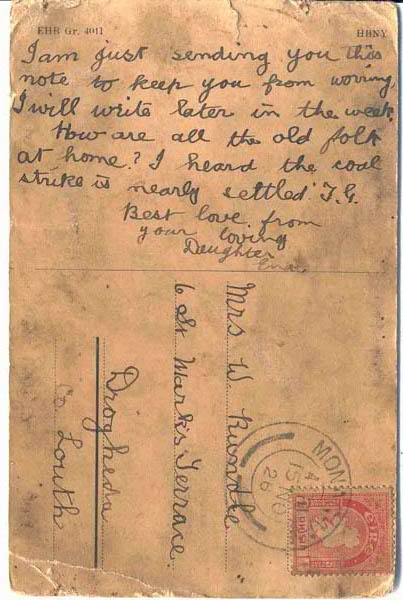 Ena's handwriting in 1926 was identical to that of her mother's
Georgina Frances Rundle was born on the 29th. November 1911, in 6 St. Mark's Terrace, Drogheda, the first child of Walter and Agnes. She was named after her mother Agnes' brother George (Graham), and her father Walter's mother, Eliza Frances. She was commonly known as "Ena"


Ena's life spanned almost ninety years that witnessed two world wars, the Irish war of independence, the Irish civil war, and other political events in which she took an active part. All through her life she took a stance on women's liberation that influenced all who met her.

In her early teens she attend St. Louis' Convent Boarding School in County Monaghan, to train as a schoolteacher. There, she studied all subjects on the curriculum through the medium of the Irish language (Gaelic/Gaeilge). She became very competent in French, Irish and English, and her school reports were very complimentary. On a postcard (see below left) from the boarding school in Monaghan, she showed an awareness of current affairs (a coal strike), or was her writing influenced by the nuns (who scrutinised all letters)?

The fact that she was in St. Louis' Catholic Boarding School, Monoghan, regarded as the best and most expensive in Ireland at the time, is a reflection on her presbyterian father's commitment to his principles and integrity. Her time in Monaghan and her academic life came to an abrupt end during the christmas break in 1927 (a month after this postcard was written), when she discovered that her father had left home and her life. Her education could no longer be financed. For a time after that, she helped her mother with the job of work at home with 9 other children. Shortly afterwards, she found herself in the Bury St. Edmund's Infirmary training to be a nurse. Her uncle, George (Graham) took an active role in the family's upbringing and took Ena over to England to alleviate Agnes' dilemma and provide Ena with a future source of income. Ena came back after the short course, qualified as a state registered nurse (S.R.N). a short while after that she attended Holles Street Maternity Hospital in Dublin and qualifiled as as state certified midwife (S.C.M.). During this time her education and family were supported by George Graham and the wider Graham family.

It was during her time in Holles Street, that she indulged in autograph-hunting and met, and got autographs from Eamon de Velera (a future President of Ireland, whose son was a doctor there) and The Mahatma Ghandi. She also had an autograph of Michael Collins (a friend of her mother's family) in the same book. Sadly the autograph book was stolen from her when she lived alone in her old age. It may surface in the future, or it may be lost forever.

Ena (as she was called) had a pet name, as did all the Rundle children. She was called "Bee" and this reflected her character as a busy person. This comes from an old saying "As busy as a bee"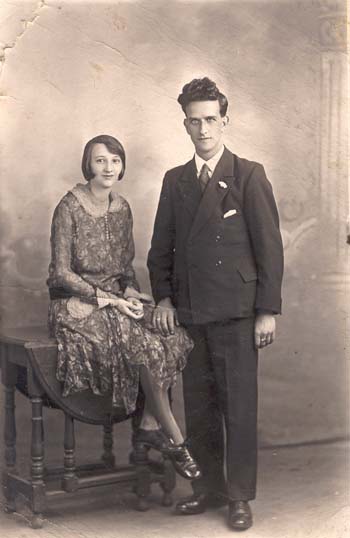 Ena Rundle and Tommy Cumiskey
(taken approx 1932).
When Ena returned to Drogheda she started a relationship with Tommy Cumiskey, a city councillor on Drogheda Corporation, an accountant and political activist with "The Blueshirts". They married around 1931, and lived at 38, Trinity Gardens, Drogheda. They had two children, John Raymond (Ian) and Marie Teresa Gertrude (Trudy).

Sadly, their marriage was short-lived. On October 11, 1934 Tommy Cumiskey died "by misadventure", in a drowning incident. Apparently he had got involved in what seemed to be an embezzelment of funds, and 'insanity' and 'mental disorder' were ruled out at his inquest. The account of his death and inquest is well documented in the "Drogheda Independent" of the time.

Ena was asked to take her late husband's seat on the corporation, as was the custom and legitimate procedure at the time, and subsequently run as a candidate for Dáil Éireann (Parliament of Ireland). She declined due to her commitments to her two young children, her siblings, and her grief for Tommy.