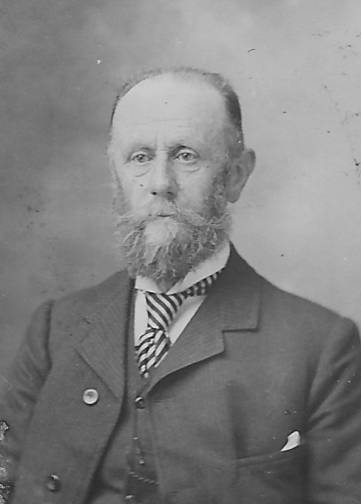 Edmund William Rundle
Commander, H.M.S. Royal Navy,
Coastguard Division.
edmund willam rundle

was the son of James Rundle, a labourer, and his wife Margaret Drew. He was born on the 13th. of February, 1845 in Longroom, Stonehouse, (a few miles west of Plymouth) Devon. He joined the Royal Navy at a young age (as did his younger brother William Robert in 1892, at the age of 15). The earliest naval records found so far, show that he served as a "Boatman" on H.M.S. Implacable from 1st. Jan. 1873 until the 30th. Sept. 1875. His character is recorded as "very good". After that, he was transferred to another naval vessel, the H.M.S.Vanguard which served as a coastguarding vessel along the north-eastern part of Ireland (then a part of the British Empire) and based at Dunany Point near Clogherhead, Co. Louth. As vessels were changed, Edmund was transferred too. He served on the H.M.S. Iron Duke and the H.M.S. Topaz, based at Soldier's Point, from July 1877 to August, 1878. At this point in time he was serving as a fully-fledged "Coastguard" and his character was described as 'exemplary' and was awarded his third G.C. badge. On the 28th. August 1878, he was transferred to the H.M.S. Bellaisle which guarded the sea area from Soldier's Point, The Mouth of The Boyne (that is, Drogheda City, Co. Louth) and Clogherhead. By this time he had been promoted twice and on the 14th January 1880 he was elevated to the rank of Commander of the H.M.S. Bellaisle. One nice piece of information that his naval records give us is that Edmund was 5' 6" (1m 68cm), had brown hair and hazel coloured eyes tall and that he had a 'fresh complexion'.

It was in 1873 that Edmund and Eliza (more later), decided to take up residency in Ireland with their three children. They moved to Queensboro, Dunany, near Termonfeckin (about 6 land miles/ 10km from Drogheda). In October their first "Irish" child was born, he was called Edmund. In his (first) marriage with Eliza, they had ten children altogether.Their children were much talked about in the area. Four of their daughters were known as "The Four Flowers of Clogherhead" (and later as "The Four Flowersof The Marsh" because they lived in Clogherhead and later on The Marsh Road in Drogheda) because of their beauty, and glamourous home-made dresses. Two of the Rundle sons tried to emulate their seafaring father and went adrift on a raft in a playful incident at Clogherhead. They were rescued by a foreign vessel and their story made headlines in the Drogheda Independent at the time, and was referred to many years later in a journalistic review of historic events in the same paper.

Edmund Junior, their first "Irish" child, and the first child named after his father, died shortly before his eight birthday. His was the first Rundle to be born in Ireland and ironically, the first Rundle to die in Ireland. He is buried in Dunany Churchyard, near Clogherhead. Sadly no headstone marks his grave, but he is referred to on his mother's headstone in St. Mary's cemetary, Drogheda.

After Edmund retired from the navy he developed his talents as a brewer and subsequently took a job as "Malster" in Cairn's Brewery, Drogheda.

Eliza died on the 2nd. February 1904 and Edmund married again. His new wife was Maria Turnbull. They were married on the 29th. March 1905. Maria lived at 48 North Street Lurgan, Co Down. However she came from a prominent family who were English and lived in Drogheda. Her father was a soldier.They were married in Lurgan, County Down which is now in Northern Ireland.They moved to England. They had no children and remained in Plymouth until Edmund died in 1933 at the age of 88.

Maria inherited Edmund's estate and returned to live with her sister in Kinnity, County Offaly Ireland . She is mentioned on the Wellington family headsone in St. Peter's churchyard, but is buried in Kinnity, Co. Offaly.The Wellington headstone is one of the most fascinating headstone for genealogy detectives. It provides a complete account of all persons connected to the grave with dates and references to other burials in a cleverly concise way. It would be a good example for future headstone (if they don't go out of fashion).

Edmund's name was inscribed on two headstones in Drogheda, once in St. Peter's churchyard, Drogheda, on the Wellington headstone as Maria's husband. He is also "writ in stone" on Eliza's headstone in St. Mary's churchyard, also in Drogheda. It is probable that his name is also on Maria's headstone in Kinnity. His name appears on a fourth headstone, his own, in St. Pancras' churchyard Honicknowle Lane, Pennycross, Plymouth where he rests in peace, alone.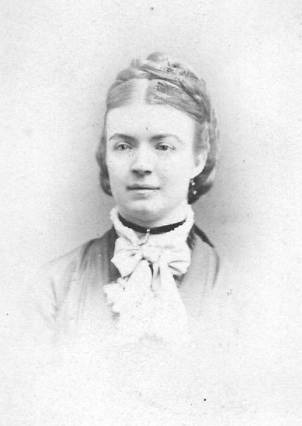 Eliza Marten
Aged 21, taken around the time of her marriage.
eliza frances elliot marten was born in Mill Street, Bridgenorth, Shropshire on 11th. Jan, 1843. Her father Joseph, was a joiner (carpenter), and her mother was Sarah Elliot Frances. At the age of 22 she was living at Mulgrave Place, Plymouth, Devon at the time she married Edmund William Rundle who was a year younger than her. It is said that Eliza was a confident, assertive woman and somewhat of a matriarch. There might be evidence of this when we see that her first three children had the name 'Marten' as forenames. It wasn't until eight years into the marriage that the fourth child (their third son) inherited Edmund's name. However, this should not take anything from her greatness as an industrious mother and educator. She had a background in farming and taught her children a lot about gardening and self-sufficiency. She taught her sons how to cultivate a garden of berries and how to make jam and dye. She taught her daughters to make their own clothes and one of her sons did tailoring work in the navy to supplement his income as a result of her tuition. She also taught her children to read and write. All this was quite an achievement while she ran a household with her husband absent for long periods at sea.
She was a very religious woman (a Methodist) but had a great strain of adventure and rebellion (which was frowned upon in Catholic Ireland at the time). She was also very politically conscious and encouraged her daughters to be independent (which was frowned upon in England and Ireland at the time). This independence was passed on to her two daughters who emigrated to Canada for two different reasons (more later).
She died of Cerebral Compression after 12 hours of Apoplexy,a very traumatic death, at her home, on Marsh Road, Drogheda in the company of Edmund, and their children, on the the 2nd. February, 1904 at the age 61. She is buried in St. Mary's Methodist Churchyard near the centre of Drogheda City.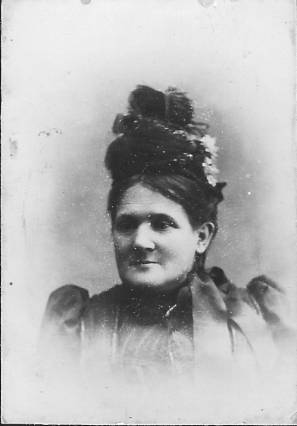 Eliza (Marten) Rundle.
Taken in the late 1890's
Eliza Rundle

died on the 2nd.February 1904 at the age of 61 at Marsh Road. Drogheda. She is buried in St. Mary's (Presbeterian) Churchyard, Drogheda. On her headstone there is an inscription about her young son Edmund who died at the age of eight and is buried in the Presbetyrian churchyard in Dunany where they lived 20 years earlier. There is also a reference to the fact that she was the widow of Edmund Rundle.

PLEASE NOTE THAT IT IS POSSIBLE THAT ELIZA'S SURNAME MAY WELL HAVE BEEN MARTIN, AS IT WAS SPELT ON THE MARRIAGE CERTIFICATE OF HER PARENTS. ON SUBSEQUENT DOCUMENTS IT CAN BE SEEN THAT WHEN THE NAME MARTIN APPEARS, THE DOT OVER THE LETTER "I" WAS A SMALL CIRCLE AND OFTEN ATTACHED TO THE LETTER ITSELF, THUS MAKING IT LOOK LIKE THE LETTER"E". You will also see these and other photographs on another page called "Edmund and Eliza's children" (the box on the bottom right of this page.

Likewise, when Edmund married Maria Turnbull, his name is written on their marriage certificate " Edmond." If you would like a copy of the Marriage Certificate, click on the red box below and ask for it.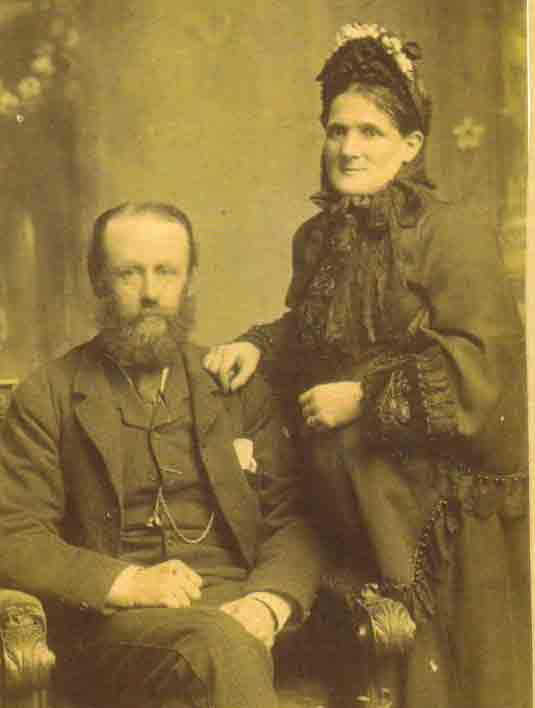 Edmund and Eliza in their latter years.